The Intelligence Factory is the largest exhibition space to open at Bletchley Park in Buckinghamshire. I headed down to the home of the codebreakers to dig out some of the highlights for groups.
Can you believe that at the height of Bletchley Park's operation during World War Two, nearly 9,000 people worked on the leafy Buckinghamshire estate, with 75% of the workforce women? That's right, not everyone on site was a genius mathematician, and some didn't even know what the letters meant as they poured out of the decoding machines they operated.
The story of Alan Turing and his brilliance in the war effort is well known, but this exhibition tells us what day to day life was like for staff at the peak of Bletchley Park's existence from 1942 – 1945. It's the first time the story has been showcased to this extent, and it took more than two years to produce.
The new exhibition space in Block A, which has never been open to the public before, is huge and has been fully refurbished to match how it would have looked in the 1940s. I'm told that experts matched the green and cream paint combination to original pigments found on the walls to make it as authentic as possible. It's these extra touches that make it feel really special, including tubing that's strapped to the walls and ceiling to imitate how messages used to be transported around the block.
Interactive elements really help you understand the complex tasks that were undertaken, in the very spaces that staff carried them out. A recreation of the Plotting Room used by naval intelligence officers has modern touch screen technology so visitors can track the movements of wartime ships. There really is something quite remarkable about giving it a go in a room that was once so secretive.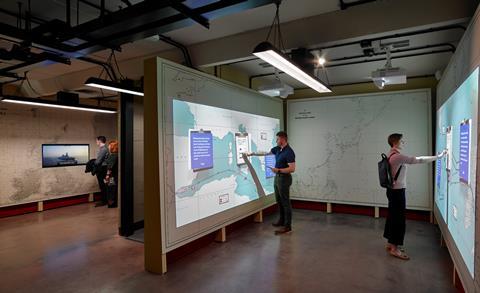 Some of the smaller rooms feature inspirational quotes on the walls from ex-staff about their experiences during the war. Some displays also have listening devices attached which also play pre-recorded messages from them.
It was a completely different time and I was blown away by one lady's account, who went through a series of tests before being told to board a train to Bletchley. She had no idea what was to come her way but knew it was important she went along.
Recently discovered wartime footage captured at nearby Whaddon Hall, the top-secret MI6 base from which intellegence was sent to allied commanders in the field, is also played on a loop so be sure to make time for this.
Normal people doing extraordinary jobs
The Intellegence Factory does a wonderful job in focussing on the human aspect of being away from home and the struggles of war life. One dedicated space focusses on the food prepared for staff, ranging from traditional favourites like minced meat, potatoes and cabbage, to more peculiar dishes like curried fish – although I think I would have passed on that one, and many did.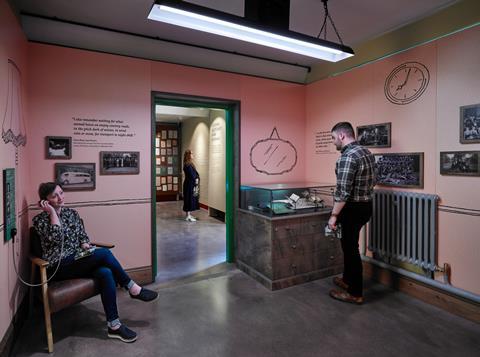 The most intriguing part of the display has to be the rooms dedicated to the relativley unknown work of Captain Alan Bradshaw, who was responsible for feeding a workforce on rations, keeping staff morale high and navigating the logistics of getting thousands of staff to work on time on what was a top secret site.
Here, thousands of real-life memos to and from the captain highlight some of the serious issues staff faced such as homesickness, to more comical problems like workers pinching too much pudding. My personal favourite? An angry vicar complaining about pigs that had broken free from Bletchley Park and were happy to set up base in the neighbouring church yard – the great escape, this time from pigs!
Alongside The Intelligence Factory, which fills most of Block A, is another space adapted into a new gallery that will house a series of temporary exhibitions.
The first of these is The Art of Data: Making Sense of the World, running for 18 months. Taking inspiration from the techniques used by the codebreakers to manage information at scale, the exhibition will focus on how data visualisation helps us to make sense of the world today.
Analysis of MK Dons football players, a necklace that measures air pollution, and a ground-breaking augmented reality Striker II fighter pilot's helmet are among the data visualisations on display.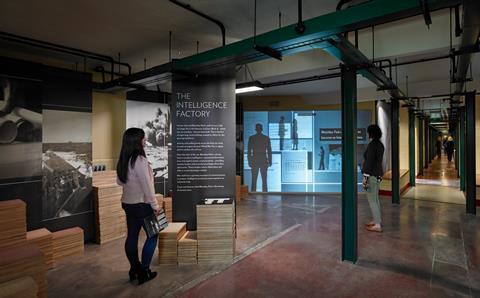 What's included for group visits at Bletchley Park?
Dicounted entry for groups of 12 or more people applies, with all exhibition spaces, including The Intellegence Factory, included.
Other perks include complimentary day entry for the coach driver and group organiser, free off-site coach parking and free familiarisation visits. Guided tours can also be pre-booked.
I'm not sure if my words do it justice, so my advice to you is to go and see it for yourself. You won't be disappointed.

With a love of journalism and travel, Harry enjoys writing about his experiences for GLT readers to use as inspiration. Brighton, Dublin and Amsterdam are among his favourite cities to visit and he enjoys delving into historical sites too – especially those linked to the Tudors and World War Two.