Jennie Milsom reveals the thrill of seeing a live performance on stage again and what you and your group can expect on your first visit back to the theatre.
Since theatres reopened in May, I've been lucky to get to the theatre twice. Firstly, to see The Windsors: Endgame at the Prince of Wales in London's West End, a last-minute booking (booked online at 5pm, in my seat at 7.15pm); and The Prince of Egypt at the Dominion which had been in the diary for a while, the original date having been postponed after the cast had to self-isolate and the show was temporarily suspended (the curse of the 'pingdemic').
So, two musicals, connected by a royal theme yet worlds apart in terms of genre. The Windsors: Endgame was written by the creators of the popular Channel 4 spoof comedy which portrays the modern-day Royal Family as you've never seen them before. It features many of of the original cast including Harry Enfield as Prince Charles. The humour may not be for everyone – scathing satire, slapstick and intergenerational conflicts including the battle for the crown – but it had the audience roaring with laughter (myself included).
Meanwhile, The Prince of Egypt is based on the 1998 DreamWorks Animation film. Set in Ancient Egypt, it tells the story of two men raised as brothers who find themselves divided by a secret past. It's a passionate tale of sorrow and joy, hope and despair, not unlike the past 18 months.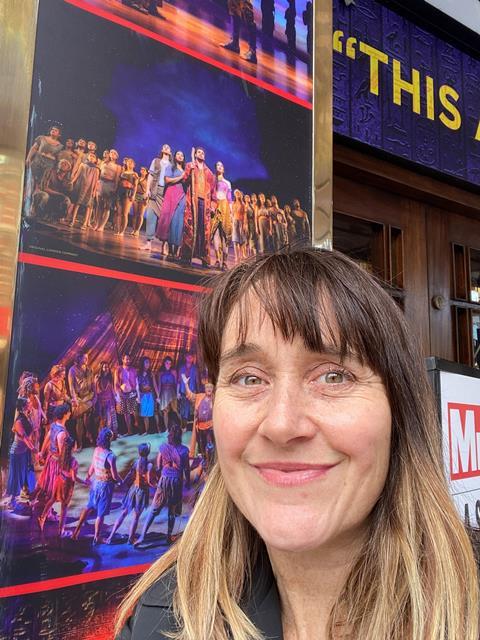 Tickets and other requirements
The e-ticket for The Windsors landed in my inbox moments after I made the booking. Admittedly, this is a somewhat faster process than booking a group!
Along with the confirmation, I received a message that the theatre required sight of a Covid pass at the door. A slightly panicked ten-minute scramble ensued while I unearthed my NHS number for the NHS website, and held my breath that it would link up and magically generate a QR code. As it turned out, it proved a remarkably smooth process.
Meanwhile a Covid pass wasn't required by the Dominion Theatre and it now looks as if plans to roll-out a scheme to make showing such 'passports' or 'certification' a legal requirement for crowded events have been scrapped, for now at least, according to Health Secretary Sajid. This may be one less planning arrangement that GTOs and group members need worry about in the future but it is worth checking because some theatres require proof of double vaccination or a negative Covid test, while some do not (see below for more on this).
In the theatre
Despite this additional admin ahead of arrival, the old familiarity of an evening at the theatre soon came rushing back: walking through the doors from the street into the well-lit splendour of the foyer; ushers asking to check tickets (digital, naturally); and being directed towards the Stalls or Circle.
Staggered ticket times to ease congestion as people arrive for a performance were very much still in place, and I have to say I'm all for this – who wouldn't prefer a shorter queue that moves more quickly? The staff on hand at both venues were excellent at facilitating a steady stream of people arriving and making their way to their seats.
As for face coverings, this seemed very much a matter of personal choice, with many opting not to wear masks. The Prince of Wales Theatre (a Delfont Macintosh theatre) asks that guests wear a face covering "out of consideration" for others. Similarly, Covid safety measures in place at Nederlander's Dominion Theatre request that theatre-goers wear a face covering while moving around the theatre and "to consider continuing to wear face coverings whilst seated", for the reassurance of others nearby.
"Since our lives shrunk overnight in March 2020, being part of a large gathering again felt quite special."
I didn't see people wearing masks while seated at either venue and while this didn't concern me, it may be of concern to others. There were, however, empty seats between me and others to ensure social distancing between parties. From a visitor's perspective, having this extra space is most welcome though you do have to wonder how long venues can operate at such a reduced capacity.
There was a lively queue at the bar both before the performances and at half-time. For me, this is always a welcome sight. Since the pandemic, I've never been happier to queue for hospitality because, let's face it, it means the venue is open and trading (I'm less crazy about queuing for toilets and can confirm this is still very much a thing for the women's, as was the case in both theatres).
Taking my seat, I looked out over a sea of heads and shoulders bobbing in their seats and relished the hum of conversation around me, the clinking of drinks, the laughter, those every-day interactions between friends. It was vibrant, full of colour and alive. Since our lives shrunk overnight in March 2020, being part of a large gathering again felt quite special.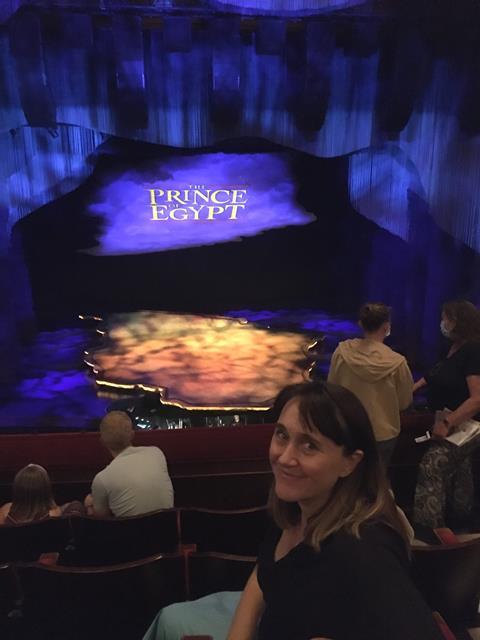 The performance
The lights dimmed and the orchestra struck up; after the endless Zoom calls and our reliance of screens during the pandemic, there is nothing quite like catching a glimpse of people, in the flesh, creating that music and knowing that each performance is unique.
I was also struck by the size and intricacy of both auditoriums; the depth of the stage, the lighting, the set. The amount of work that has gone on behind the scenes to create and deliver something magnificent. The royal barge scene in The Prince of Egypt, for example, with its lighting and mist effects was a truly magical creation.
And then, of course, there's the cast who bring the story to life. After all the restrictions we have all had to live with during the pandemic, the intimacy between the characters and their easy interaction with each other on the stage seems more striking than ever: touching and kissing; tumbling and rolling; throwing and catching each other. The seemingly effortlessness of it all, which is of course the result of tireless rehearsal and talent. And the costumes! The sequins and dazzling colour in The Prince of Egypt; the regal robes (as well as some more casual off-duty wear) in The Windsors.
A two-hour performance will transport you into a world that seems a universe away from the past 18 months.
I hope your first trip back to the theatre will be a joyous and memorable experience and, if you're anything like me, you'll probably be thinking about organising your next show as soon as you're home.
The low-down
Are the days of paper tickets numbered? Ticket agency Group Line told us they no longer post tickets out – all tickets are emailed to customers who can either print them at home or show on their smart phones at the theatre.
Currently, there is no set rule regarding producing a Covid pass to gain entry to theatres. Some venues request proof of either double-vaccination or a negative Covid test, whereas other theatres have no requirement in place.
While some venues may choose to operate at a reduced capacity to allow for social distancing, Group Line, which is a part of the Ambassador Theatre Group (ATG), told us all their shows are now running at full capacity.