We catch up with Alan Spittle, one of Salisbury Cathedral's stone masons about the historic art, what a typical day involves, and what the cathedral offers visitors.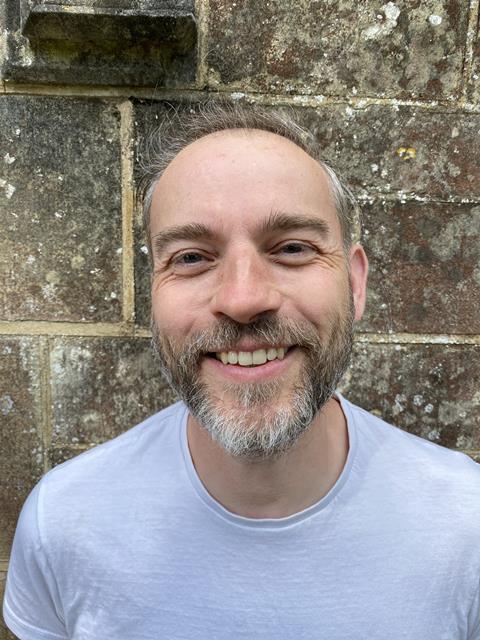 How did you become a stonemason?
I decided to change careers from working as a graphic designer after I attended a weekend course in Stonemasonry in Gloucestershire. With a leap of faith, I relocated to London to enrol on a Stonemasonry Diploma course at the Building Crafts College. Just before I graduated, I persuaded Salisbury Cathedral Works department to let me visit to do work experience. I guess I impressed them enough to offer me a job after I graduated and I've worked there ever since and the rest is history.
What's the hardest part of your job?
Having to do the measuring and technical drawing of the replacement stones. Usually the profiles of the stone are very decayed which makes it tricky to get the right information to replicate.
Everything is hand drawn on card using compasses and knowledge of geometry. Once this is complete, plastic film is overlaid and drawn to create templates for the mason to apply to the new stones. This requires a lot of responsibility because if you don't get it right at this early stage, then all the subsequent work cutting and carving is wasted if it doesn't match when it's fixed in its intended location.
You clearly have a passion for historic buildings, can you share some of your favourites in the UK?
Well Salisbury Cathedral of course is my favourite. But I've visited so many churches, cathedrals and stately homes, they all have their own sense of unique wonder. They're all created by hard labour and tremendous skill by master craftsman. Woodchester Mansion in Gloucestershire is a hidden gem as it was never fully finished by masons.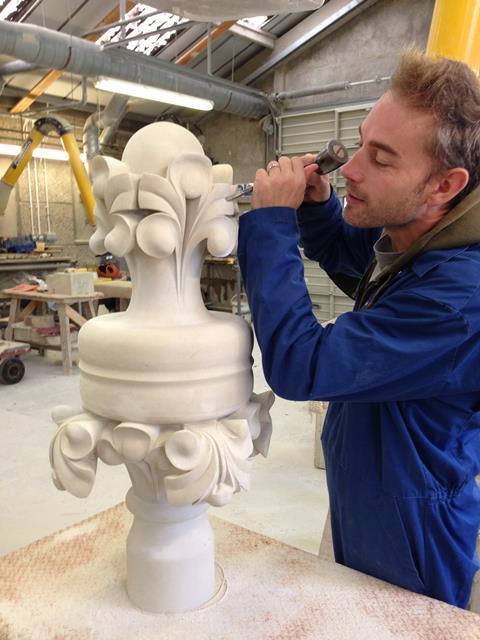 What does a typical day at work involve?
The day starts with checking in with the head mason about what type of work is to be done for the day. We have a schedule of ongoing work on the Cathedral but so often other priorities such as maintenance within the Close can suddenly arise.
We get to work in all weathers unless it's really, really wet or if it's too windy to be up high on the scaffold. If I'm working stone in the Banker Shop then I'd wear full PPE and hand carve stone with mallet and chisel.
If I'm out fixing stone I'd probably be working at extreme heights on the scaffold then again wearing PPE, I'd use power tools to remove the old decayed stone to suit the new replacement stone. This is generally very dusty work being covered from head to toe by the end of the day.
What do you love most about what you do?
I absolutely love everything about my job as it's so diverse. What I love the most is to model out of clay a replacement Gothic architectural stiff leaf moulding and then to replicate it by carving it in stone.
What do you offer at the cathedral related to the stonemasonry?
We usually offer a ticketed tour of the works yard where a guide will give you an insight on how the Cathedral was built and lead you through the workshops explaining about the different processes on how we are repairing the Cathedral.
We also normally offer weekly public Stonemason's demonstrations in the Cloisters where we chat to the public, showing what work we are currently doing. In the summer months we also offer a two day public stone carving course within the works yard.
2021 visit information
The cathedral hopes to be able to run its usual Summer Stonemasonry courses in July during which visitors are taught by the stone masons to carve either a flower panel or Celtic knot. The group tours to the Works Yard are not currently available due to Covid restrictions.
Priority booking is being offered to groups now, ahead of the cathedral's opening on 19th May in line with Government guidelines.
For more information about future visits, and what to look out for, go to www.salisburycathedral.org.uk and organisers can contact the group bookings team on 01722 512156 or email groups@salcath.co.uk