Rachel Bailey reports back from a trip that saw a party of Group Leisure & Travel readers seeking future excursion inspiration at RHS Garden Wisley.
Did you know that the branches of the wisteria from China (wisteria sinensis) grow in an anti-clockwise direction, while the wisteria from Japan (wisteria floribunda) twists around in a clockwise direction?
And were you aware that the soft and silky flowers of the evergreen shrub, Cistus, only last for a day each year in May/June, and are notoriously hard to photograph in the afternoon?
Head to the RHS Garden Wisley in Surrey like I did, and you'll come away with bags full of horticultural knowledge. Along with 40 of our readers, I heard many different plant, tree, shrub and flower facts, many of which were quite astonishing.
And not only did GLT's September Reader Club Trip prove educational, it was also an eye opener to some of the exciting events that take place there each year. The attendees were also able to find out first-hand how groups paying a future visit can take advantage of discounted rates, packages, tours and catering options.
More than just a garden
Walking through the entrance of RHS Garden Wisley provided the first of many lovely vistas. The formal lily pond edged with soaring green trees against the bright blue of an early autumn sky was a welcome sight, followed up by many more when later touring different parts of the garden.
The group was greeted with warm pastries and steaming cups of tea and coffee before settling into a welcome presentation from Melissa Hackney, the group sales and marketing manager.
"RHS Garden Wisley is ideal for bringing a group, and having a guide has really brought it to life. The best bit was the views from the highest point over the glasshouse"

Sheila Pomfret, Fetcham U3A
An introduction to the garden indicated that RHS Garden Wisley is the oldest of the Royal Horticultural Society properties, built over 200 acres of land, and has a number of events throughout the year – a fact that many of the organisers around me nodded at with approval. Butterflies in the Glasshouse, for example, is due to take place between January and March in 2018 and will see the huge glass greenhouse filled with butterflies. The annual RHS Wisley Flower Show, meanwhile, will take place from 4th to 9th September in 2018.
Melissa's presentation was followed by a welcome from Sheila Das, the garden manager, who advised our party that there is 'plenty at Wisley for the knowledgeable, avid and keen horticulturalist – but also enough for anyone, no matter what their plant knowledge, to enjoy.'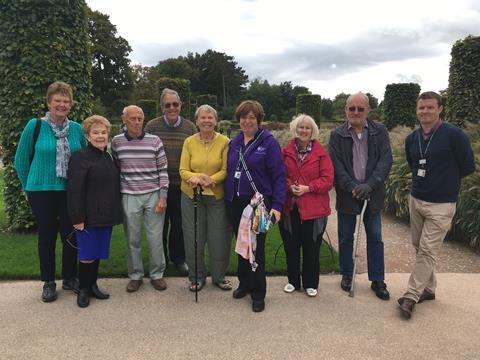 Exploring the grounds
Off we went to see for ourselves just what Wisley is like. Split into three groups and each assigned a volunteer tour guide, we went in different directions to get a feel for the garden's main highlights.
To walk around the garden is wonderful; the landscape varies from section to section and is full of surprises at every turn. One moment you're walking through a banana tree forest, the next you're strolling up a hill fringed with mixed borders. Then you'll find yourself standing on a fruit mound overlooking prairie borders teeming with self-sustaining plants of rainbow shades.
Highlights for me were the new exotic garden, planted earlier this year; the Trials Field, where plants are assessed for the RHS Award of Garden Merit (AGM); and the bonsai walk which looked very attractive with all the fiery coloured leaves.
"We'd definitely bring our group here, I had no idea it was so expansive."

Sue Bell, Rutherfords Travel
Our tour guide, Irina George, was clearly a keen gardener and armed with so much knowledge about the gardens. She was able to answer our questions in all areas of horticulture. Feedback at the end of the garden tours from all three groups was incredibly positive about each tour guide, and many of the GTOs on the trip said they'd definitely recommend having another guided tour should they return.
Kitchen and garden: A working partnership
The recommended dwell time at Wisley is three hours but you could easily spend all day there. With plenty of catering options available, it would be easy to make a full day of it.
Lunch time for us was leisurely, beginning with a talk from the head chef himself who explained that the relationship between the RHS Garden Wisley and its kitchens is a working partnership. Much of the produce grown in the gardens is used to supplement the meals cooked in the several eateries, including the Glasshouse Café and the Honest Sausage.
"This is a garden where people don't have to stay together as a group. The guide was very informative and the day overall has been excellent."

- Anne and George Marks, Oakleigh Social Club
This was proven during our own experience: lunch consisted of options including a butternut squash and parmesan pie with coleslaw, and an apple and blackberry crumble with cream – many of the ingredients had come straight from the garden. There were smiles of approval all round from everyone – the meal was simply delicious.
Why Wisley for groups?
RHS Garden Wisley offers a great day out for groups. Bar the obvious delights of exploring beautiful, historic and well-cared-for gardens, the group rates and benefits are very attractive.
A meet and greet onboard your coach can be arranged, you can bypass the queues, and you can enjoy private guided tours if you're a group of ten or more people.
Afternoon tea or lunch can be arranged, private hire of some of the dining areas, or the provision of vouchers to dine independently are all available options. There are also free places for GTOs and coach drivers, plus dining vouchers for the driver.
Useful contact:
Melissa Hackney, group sales
020-7821 3170
groupswisley@rhs.org.uk
www.rhs.org.uk