This year's Royal Air Force centenary is to be marked by the opening of a new exhibition at the World Rugby Museum at Twickenham Stadium.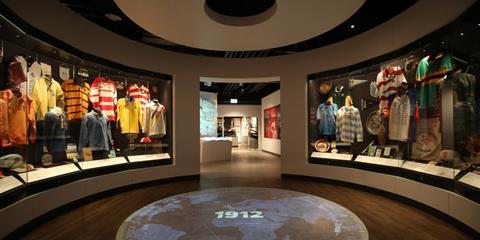 The new exhibition celebrates the sporting careers of nearly 200 RAF service men and women who have represented their country on the rugby pitch.
The exhibition is now open to the public and will run until the end of November this year.
About the new exhibition
With the foundation of the Royal Air Force Rugby Union in 1920, a tradition of rugby excellence was established that has continued to this day.
Many distinguished rugby players have been amongst the ranks and officers of the RAF, including Wavell Wakefield, Cyril Lowe, Rory Underwood and Peter Larter. The high calibre of rugby has been maintained in the modern era by the likes of Wales' Sian Williams and Charlie Murray, and England's Amy Cokayne.
The World Rugby Museum's RAF Rugby Union exhibition will explore the achievements of these individuals and have on display significant objects from their RAF and rugby careers, including jerseys, caps, photographs and medals.
The exhibition can also be visited as part of a stadium tour and museum visit. The Stadium Tour includes visits to the England dressing room, the tunnel and pitch-side, the Royal Box and VIP areas.
Group information
The exhibition aims to appeal to groups with interests and connections to both rugby and the RAF.
Group rates are available for groups of 20 plus. When visiting, discounts are available on the gift shop and food and drink.
Group travel organisers and coach tour operators should contact the World Rugby Museum by emailing museum@rfu.com or calling 020 8892 8877.
For more information, visit www.worldrugbymuseum.com.