The 2023 edition of the Who's Who in Group Leisure directory has been published in print and online, helping group travel organisers as the go-to reference for ideas, information and contacts when planning group trips and holidays.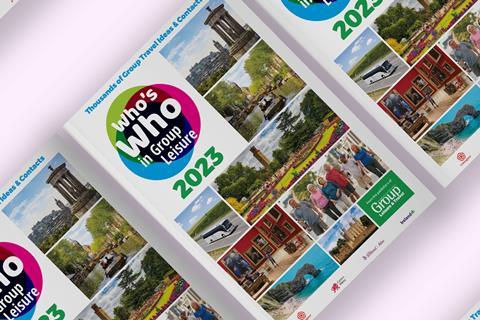 From the team that brings you Group Leisure & Travel magazine, Who's Who is still regarded as one of the most valuable tools available for group travel organisers. Thousands are printed and posted to readers while an online digital edition is also available to search and share.
First published in 1993, it contains listings for the some of the best and most relevant attractions and suppliers for groups, broken down by county for England, along with sections for Scotland, Wales and Ireland. There are also useful dedicated sections for tour operators, ferry companies, as well as cruise lines.
The directory includes a foreword from the Tourism Minister, Stuart Andrew MP who said: "There really is something for everyone here in the UK. We have unparalleled heritage, world-class museums and attractions, untouched beaches, breath-taking countryside, first-class food and drink, and so much more."
WWGL 2023 also includes comments from the national tourism bodies: VisitEngland, VisitScotland, Visit Wales and Tourism Ireland.
Commenting on the publication, editor Keeley Rodgers said: "It's a big job updating and publishing a new edition. But speaking to GTOs, I know how valued Who's Who in Group Leisure is and that it's a publication that's used throughout the year to help organisers find ideas in a specific area, or to locate contact details as part of the planning process. We're confident that the 2023 edition will result in some fantastic group trips and holidays."
How to buy a print copy
Group Leisure & Travel magazine subscribers have been posted a copy of Who's Who 2023. You can also buy print copies via the groupleisureandtravel.com/whoswho page.
For help or queries about purchasing a copy, or to order a print copy over the phone, contact Ingrid Hansford on 01908 613323 or email subs@groupleisureandtravel.com (please do not send payment or bank details via email).