Viking has released details of its new river cruise ship, Viking Aton, which will make its debut on the Nile in Egypt next year.
Viking Aton is currently being built and is scheduled to debut in September 2022, joining its identical sister ship, Viking Osiris in Egypt - both ships have been specifically built to navigate the Nile River.
With 41 staterooms able to accommodate 82 guests, the new ship boasts spacious suites with two full-size rooms and verandas; a pool and sun deck with 360-degree views; as well as what is being described as a 'revolutionary' Aquavit Terrace for al fresco dining and indoor/outdoor viewing along the Nile River.
Viking Aton will join the company's other ships on the Nile, Viking Osiris, which is set to launch this year, and Viking Ra, which launched in 2018. It will sail the 12-day Pharaohs & Pyramids itinerary.
About the itinerary
The holiday begins with a three-night stay in Cairo, where guests can visit historic sites such as the Great Pyramids of Giza, the necropolis of Sakkara and the Mosque of Muhammad Ali.
Guests then fly to Luxor, where they visit the Temples of Luxor and Karnak before boarding a Viking river ship for an eight-day round-trip cruise on the Nile River, featuring access to the tomb of Nefertari in the Valley of the Queens and the tomb of Tutankhamun in the Valley of the Kings.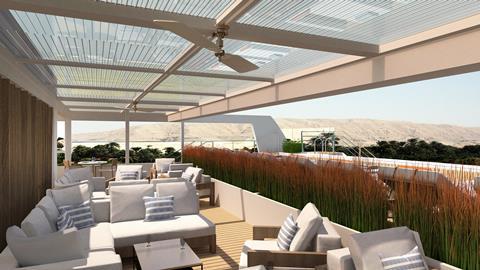 Excursions include the Temple of Khnum in Esna, the Dendera Temple complex in Qena,the temples at Abu Simbel and the High Dam in Aswan, plus a visit to a colourful Nubian village, where guests can experience a traditional elementary school. The journey concludes with a flight back to Cairo for one last night in the ancient city.
Viking's chairman Torstein Hagen said: "Egypt remains a top destination for many of our guests who are inspired to discover the rich history and beauty of the region.
"We will always maintain our commitment to creating meaningful experiences that are focused on the destination. The addition of Viking Aton is a reflection of our continued investment in Egypt; we look forward to introducing the country's cultural treasures to even more Viking guests in the future."
Group bookings are available on this itinerary although there are currently no other offers. Group organisers can make an enquiry by calling 0800 319 66 60. For more information go to www.vikingcruises.co.uk