Here's what organiser Lynda Wright had to say about how her group Horizons formed and her advice for coping with the challenges of the coronavirus pandemic.
How did you get started as a group organiser?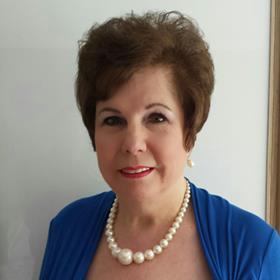 When I was in my early 30s I wanted to start some kind of social group, because my diary looked quite sparse. I got some local press coverage and had a first meeting in a pub, with 20 or so people - and we were up and running.
Horizons was launched along with a friend, who helped for about a year. I wrote a press release which was printed in local newspapers and magazines, to gather interest in an initial meeting, and we haven't looked back. I run the group on my own and I've never had a committee; I have support from my husband Tony.
And who are your members?
So many social groups are for singles - but because I'm happily married, I wanted my social group to incorporate couples as well as individuals. I don't have a particular age range, although the group was launched for 40 to 70 year olds. While most are local to Amersham, I do have members in the south of London, who will just attend the London events.
What are the most important qualities in a group organiser?
Having worked at the Head Office at Barclays, looking after the meeting rooms, arranging conferences etc, I have very good organisational skills.
Attention to detail is also vital; I plan my events to run smoothly, and don't like leaving anything to chance. People are giving up their time and money so it's important to meet their expectations.
What kind of trips do you usually organise?
Our events are split into two types: events in people's homes - such as dinner parties, lunch parties, barbecues, cheese and wine - and events outside of this, either locally or in London. We also occasionally join a local RSPB group coach trip.
Every week we meet for lunch at a pub or restaurant, and go on theatre trips (local and London), as well as trips to the cinema, National Trust properties, museums and sporting events. We go to a horse race meeting most years, usually Ascot but we've also been to Kempton Park and Newbury.
I use the services of an excellent Blue Badge Guide called Gary McGowan in London most years, everyone adores him because of his wonderful personality and knowledge. And then there are what I call my 'big ticket' events - one of these was a visit to 10 Downing Street.
That sounds fascinating - what was it like?
I had two groups of 25 members go to 10 Downing Street, one when David Cameron was Prime Minister and the second a year later, when Theresa May was Prime Minister. It was fabulous; you have an official guide who takes you around to see the portraits of past Prime Ministers, views out into the garden and the beautiful rooms upstairs where hospitality takes place.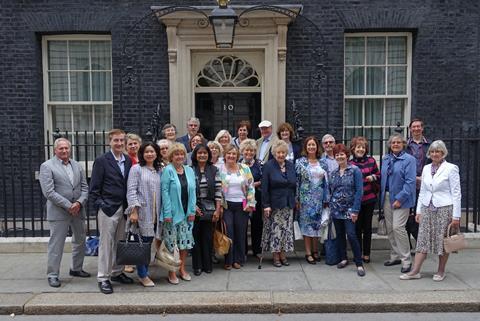 We felt very lucky that we saw the famous Larry, the Downing Street cat, asleep on the windowsill! I had to wait two years to get the date for this outing, so it was quite the opportunity.
Where do you find inspiration for places to go?
Certainly Group Leisure & Travel and other magazines are a useful source. I'm a member of the Eastern Branch of AGTO and various organisations can come along to their events to find information and pick up leaflets. I'm also on quite a few mailing lists - I certainly don't struggle to find ideas for events.
Do you have any advice for fellow group organisers facing challenges caused by coronavirus?
I think we have to sit tight, be patient and keep gathering ideas for the future. Also, try and engage with members to ensure they're thinking about this too, and that they're still getting value out of their membership. I do this through weekly Zoom meetings with my members. For the last one I sent out three suggestions of topics to talk about to provide a bit of structure and promote discussion, and through this I've got to know some of my members even better so I'll doing the same thing again. I think group organisers have to keep looking at what's available and be open about when members can attend events again.
Lynda's group at a glance…
Group name: Horizons
No. of members: 97
Time organising: 15 years