Rachel Bailey reports back from the official opening of Woburn's new special exhibition dedicated to the famous landscape designer, Humphry Repton.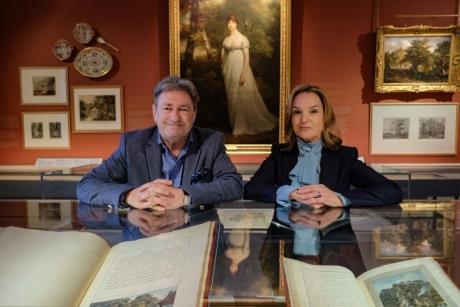 Aptly launching on the first official day of spring with bright sunshine and the dawn chorus, the newest exhibition to grace the Sculpture Gallery at Woburn Abbey in Bedfordshire, was officially opened by celebrity gardener Alan Titchmarsh.
Humphry Repton: Art & Nature for the Duke of Bedford celebrates the work of the famous English landscape designer of the 18th century with 2018 marking the bicentenary of his death.
"We are in the beauty business," said Alan to his avid audience. "A gardener or landscape designer should be able to take an unprepossessing piece of land and think, yes, do you know, I feel we can do something very good with this."
And it's this sentiment that's shown aplenty throughout the new exhibition – how an idea on paper, for a piece of land that appears to show little potential, can be made into something rather wonderful.
Alan paid a tribute to the designer, stating that "Repton gave us back the garden".
"I feel a real affinity with Repton," he said. "We are here today to celebrate a man to whom we owe a great deal; one of the true grandfathers of British gardening. And so I declare this exhibition officially open!"
Pictured: The Cone House in a Humphry Repton landscape.
Dreams made reality
The idea behind the new display (running until 28th October) is to showcase some of Repton's never-before-seen designs, works of art, archival treasures and artefacts linking to his career.
Groups are able to wander through various rooms and observe unexpected items such as Chinoiserie cream dairy pans, used in Woburn's Chinese dairy (which Repton used as a centre piece for one of his landscapes).
The exhibition will also give visitors the opportunity to discover Repton's other works for the Woburn family including at the picturesque Devon estate of Endsleigh, Oakley House and Russell Square in London.
Undoubtedly the highlight of the exhibition is Repton's iconic and humungous 'Red Book' that illustrates his designs for Woburn's pleasure grounds and park – which are in the middle of being implemented today by a team of dedicated gardeners.
It's this element that makes the exhibition so appealing overall; to be able to see the original ideas on paper, before heading out into the beautiful Woburn Estate to see the designs made reality before your very eyes.
Pictured: Woburn's head gardener, Martin Towsey with Repton's Red Book.
Step into Repton's imagination
Since 2004 the present Duke and Duchess of Bedford have been restoring many of Repton's features in the Woburn Abbey Gardens. These include the folly grotto, the Cone House, the menagerie and the striking Chinese-style pavilion.
Woburn's head gardener, Martin Towsey, who's been part of the restoration project since its very start, told me that being faithful to the original Repton designs has been a real challenge of the project.
"There's a certain sense of responsibility that comes with recreating the designs of such an important and historic figure in landscape gardening," he commented.
"Other challenges have come from being able to correctly engineer the features to ensure they remain structurally strong for the foreseeable future. The stone façade on the menagerie, for example, has had lots of work done on it to ensure its survival."
Martin recommended groups certainly explore the gardens after seeing the new exhibition, and explained that the transformation endeavour (a whopping 20 year-long project overall, just five years to go!) has seen plenty of improvements to visitor access. This means groups of all abilities can enjoy the work that has gone into recreating Repton's original designs.
Pictured: Doric Temple in autumn at Woburn Abbey Gardens.
Why should groups visit?
The great thing for group travel organisers considering a visit to Humphry Repton: Art & Nature for the Duke of Bedford is the fact that you can really delve into the history of Repton and Woburn on a detailed guided tour.
GTOs are welcome to arrange guided tours of the exhibition itself, followed by another guided tour (with a gardener) around the specific Repton gardens featuring in the indoor displays. Groups that take a special interest in horticultural history, and of course Repton specifically, will really benefit from an experience such as this one.
You can also explore outside independently – each of the Repton landscapes has been signposted with information plaques, making a self-led trail around the gardens hassle-free.
Further group booking benefits include discounted entry to Woburn Abbey and Gardens, a meet and greet service, free parking, and a choice of catering options to break up your day.
GTOs should e-mail lisa.weaver@woburn.co.uk to enquire about making a group booking or for more information on Humphry Repton guided tours.
For further information visit www.woburnabbey.co.uk.
Lead image: Alan Titchmarsh with the Duchess of Bedford.