Travel journalist and broadcaster Simon Calder talks travel 'firsts' and we find out if there's anywhere left on his bucket list.
"I've hardly travelled anywhere", Simon tells me as we catch up over a cuppa. Ever modest and humble, I think we can safely bet that he has travelled more of the world than many of us – me included.
But unlike a lot of people, he doesn't have a physical 'bucket list' of places he still wants to get to.
"Because it's always changing – I talk to people and they tell me where they've been… for example, I was talking to somebody recently who had just been hiking in Tasmania and it sounded absolutely wonderful."
Despite having visited more than 100 countries, it's clear that Simon's passion for exploring new places and having different experiences hasn't wavered over the years.
"It has been more of a question of making the most of the opportunities I have had from a professional point of view.
"For example, I was on a road trip through the mid-west from Detroit to Chicago then on to Milwaukee and up to the Canadian border. It was really good to explore that part of America where very few people actually go. The people were very friendly, it was culturally very distinctive and there was interesting stuff everywhere you went as well as low prices compared with what you're paying in Manhattan or Florida. I also went back to Shetland for a proper trip which was great."
Simon still credits his parents, Nigel and Liz, for his love of travel. In particular it was their decision to move to Crawley in Sussex where he joined the local branch of the Woodcraft Folk who organised a camping trip to the Lake District and he became hooked.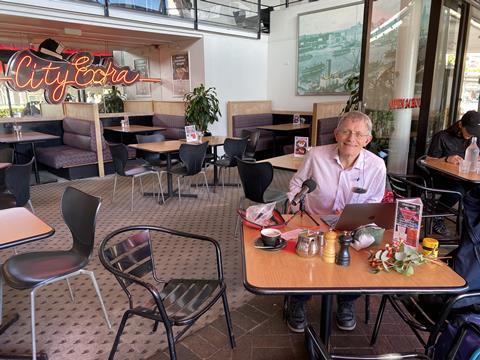 Having started hitch-hiking at the age of 12, Simon has thumbed his way around the world.
Closer to home, there are still parts of the UK he has enjoyed discovering recently including Ilfracombe in Devon and Watchet in Somerset. He recalls: "I travelled along the north Somerset coast by bus and went to places such as Watchet - it was wonderful."
"In the UK, it's also about the things I'm looking forward to such as the Manchester Museum reopening this year. The National Railway Museum in York has a whole new gallery that's opening too, which is exciting."
There are places Simon has been that he would love to go back to, such as Germany: "I've never properly explored Stuttgart and that's a fascinating place I'd like to go back to. I also did odd bits of southern Netherlands over the last few years too – I'm really enjoying travel by ship, train and coaches as a way of getting around."
Where else is on the horizon?
He shares a trip he had planned for 2020 to Armenia and parts of Georgia that he'd still like to do, as well as discovering more of Uzbekistan. "I'd also like to get back to Russia, a country I love but is now completely off-limits. In the meantime, though you can have a fantastic Eastern experience in Latvia, Lithuania, Estonia and get good value there."
"There are large parts of Africa I'm embarrassed to say I haven't been to. I also want to go to North Korea but only when you can get there from South Korea."
And another trip Simon had planned for the early part of 2020 was to south-west Poland and into Ukraine. He tells me: "I've been to Ukraine several times and I love the place; I can't wait to go back when it's safe and decent to do so and I think it will be really important to help Ukraine rebuild. I hope it's sooner rather than later."
Unsurprisingly, Simon echoed the thoughts of most of us about returning to 'the road' after two years of restrictions. In fact, he made it his mission to be the 'first' back into a number of countries when he was able to.
He explains: "I had this stupid approach to wanting to be the first person to go to places when we were able to. So I travelled on a DFDS ferry on the very first day you were allowed back into France (January 2022). I got an overnight ferry that arrived shortly after midnight in Dieppe so I could get into Paris at 9am which was wonderful.
"In order to be the first in the US, I had to fly to Canada and get a bus from Toronto to Niagara Falls and go and wait in a café until I could walk across the bridge. Australia, I flew out via Tokyo to get on the first flight in and they made us sit on the ground for half an hour because they wanted a Qantas plane to be the first to land which was ridiculous."
The recovery of the group travel sector
Full of praise and optimism for the group travel sector in particular, Simon is positive that there are many more travel memories to create throughout 2023 and beyond.
He told me: "After more than two years of really strong travel restrictions in the UK we realised just how much we missed travel. The way that the industry here has bounced back has been an absolute credit. Group travel seems to have held it together. Everybody is positive and looking to the future."
"I'm very optimistic that people will now be much more focused, much more appreciative and much more prepared to pay more to get proper value from trips."
"It's all about making memories and having special times together visiting special places and that's down to the group travel organisers and guides in bringing those experiences to life. At the start of 2020 we were living at a time when there had never been a better time to be a traveller and then suddenly, we couldn't travel and we desperately missed it."
While the travel expert recognises that we're not back to "anything like 100% yet" he has every confidence, particularly in the coach sector adding: "Going by coach is an option I'm taking more and more just because you've got the certainty, service and decent value too."
I for one am looking forward to hearing about where he has been the next time we catch up.
Simon is returning to speak at the Group Leisure & Travel Show this year - on Thursday 5th October at the Marshall Arena, Milton Keynes. Find out more at grouptravelshow.com

Keeley is the editor of Group Leisure & Travel and its portfolio of magazines, publications and websites.