TV presenter, writer and GLT columnist Julie Peasgood reports back on her cruise on Spirit of Discovery, Saga's latest addition to the family.
Back in 1957 Rolls Royce ran a legendary advertising campaign. It declared "at 60 miles an hour the loudest noise from this new Rolls-Royce comes from the electric clock". 62 years on and the loudest noise from Spirit of Discovery, Saga's latest addition to the family, comes from my alarm clock. This is without doubt the quietest ship I have ever known.
So much so, that I wake up on a sea day and actually think the itinerary has changed and we've docked early at the next port. There is zero engine noise, no worrying creaking, not even a murmur from next door's TV, and we're so steady I'm convinced we are stationary. But no, we're slicing through the sea like a hot knife through butter; smoothly, safely and silently.
I run the risk of my review for Discovery being peppered with so many superlatives it beggars belief, but trust me - this is my 81st cruise and I know my onions. Talking of which, they come pickled or finely sliced in the impressive array of salads in the Grill or in a medley of roasted veggies accompanying my grilled seabass and sardines, eaten alfresco in the Verandah.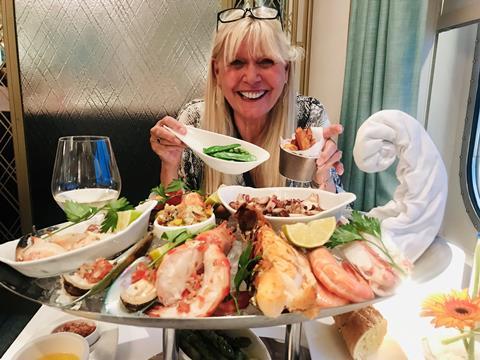 The choice and range of food is astonishing; I feel virtuous choosing healthy fare at breakfast too, with goji berries, chia and linseed adorning my fruit and yogurt. But any self-discipline disappears entirely in Coast to Coast, our favourite of the three speciality restaurants onboard. My husband Patrick (whose birthday it happens to be) announces that the mountain of seafood we are presented with to be the best meal he's had on a ship - and we munch our way through a sharing platter of king crab, langoustines, green lip mussels, shrimp, crab claws and marinated octopus, accompanied by saffron aioli, garlic bread, and lime herb salsa. Somehow we don't make it to pudding…
Alongside Coast to Coast, Saga offers inspired Asian-fusion fare in East to West and celebrated steaks in The Club by Jools. Then of course a magnificent afternoon tea - complete with bubbles - is served in style in the Grand Dining Room, Discovery's main restaurant.
Stylish is the buzzword for our cabin too; more like a luxurious hotel room than a cabin, it's a spacious mixture of contemporary Nordic and country house hotel, with a sprinkling of Art Deco. There's lots of ingenious storage, state-of-the art lighting and every cabin boasts a generous balcony - even solo cabins (a welcome rarity). Having just launched in July this year everything is also brand spanking new and fresh, including the comfy bedding and the thickest, fluffiest towels.
Our itinerary, entitled Natural Scandinavia, is fascinating, with highlights including futuristic Oslo with its magnificent opera House, and enchanting Stockholm, where I fall in love with the tiny Wooden Horse shop and museum in colourful, cobbled Gamla Stan, the medieval old town. The six-mile stretch of talcum powder white sand in Finland's Yyteri is another special excursion; we cook fragrant bread rolls over an open fire after a guided nature walk through the unspoilt forest surrounding the beach - and it's magical.
Back onboard, special mentions also have to go to the Spa, with its infra-red sauna, quartz massage and peaceful hydrotherapy pool, the library packed with an eclectic selection of books, and the breathtaking collection of art on board.
But in a class of his own is the unique Jools Holland, who performs with such passion he has everyone cheering, crying and carousing in the Playhouse Theatre on our last couple of nights. He rocks the boat - in the best possible way.
For more information about Spirit of Discovery's 2020-21 itineraries and group benefits with Saga visit www.saga.co.uk

Travel expert and TV presenter, Julie Peasgood is a regular columnist for Group Leisure & Travel.