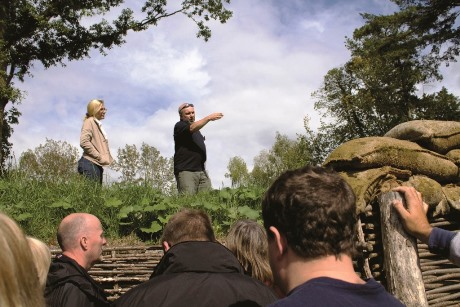 Group Leisure & Travel spoke to Paul about his passion for world war history, his favourite battlefield tours, and the best experiences available for groups with Leger Holidays.
Q. Paul, you have such an extensive knowledge of battlefields and war history. Tell us about what inspired you to become a head battlefield guide?
A. I grew up on the history of the World Wars. My father was a World War Two veteran who had fought at Anzio, and both my grandfathers had fought. My grandmother was a young girl who watched a generation of her cousins march to war in 1914 and not one came back, so her stories of their loss inspired me to find out more.
I guided my first tour in 1987, with a small group, and within ten years was taking coach groups round. In 1997 I lead the first Leger Holidays battlefield tour and over the past 21 years we have covered battlefields all over the world. I am very lucky that my hobby and my passion is my job. Military history is about ordinary men in extraordinary circumstances, and my desire to share the story of what these men did is what first drove me to do this work, and still does.
Q. Is there a particular tour which you enjoy giving the most?
A. I often get asked this, but truthfully there isn't. In a normal working year, with over 50 tours in our brochure, I rarely guide the same tour twice in a row and I like that. Every tour has something different, and every tour has new people, and it is great to feed off their enthusiasm for the subject.
I do have some personal favourite locations to be with people, whether that is walking the dusty lanes of the Somme, standing on Snakeshead Ridge looking across to the Monte Cassino monastery, or seeing the trenches carved in rock in the Vosges Mountains at the far end of the Western Front.
Pictured: Paul Reed, whose passion for history ties in nicely to his job as a battlefields guide.
Q. Which battlefield tours with Leger Holidays would you recommend for groups?
A. For groups, two good starting points are our All Quiet on the Western Front (World war One history) and D-Day Landings in Normandy (World War Two).
All Quiet takes you to the main sites on the British and Commonwealth battlefields of World War One, and offers a superb introduction into what life in the trenches was all about – we visit several preserved trench systems. The numbers appear huge, but it is only when you stand in the soldier's cemeteries that the sheer scale of it is apparent.
On the D-Day tour we see what remains of the Atlantic Wall along the Normandy coastline, and discover how the Allies were able to battle through and bring about the beginning of the end of World War Two. If you want to understand how our freedom from Nazi tyranny was achieved, this is the tour.
Q. As this year marks the centenary of the end of World War One, where are some 'must visit' locations that groups should go to for the significant anniversary?
A. As the centenary of the war comes to an end in November, the focus will be on locations connected with 11th November. Every year in Ypres, at the Menin Gate, a special ceremony takes place and one is planned for this year. Many will also attend a similar ceremony at Thiepval, on the Somme. But for the British Army the war ended where it had started four years before, at Mons. Here in the closing moments of the war, the last soldiers fell, and this will be a special place to be in November, to see where those men died and also visit the unique, and incredibly moving, St Symphorien Cemetery near Mons.
Pictured: Menin Gate.
Q. Can you share some memorable group experiences from some of your tours?
A. For me the most memorable was a trip to the Somme, where the group scattered the ashes of the last World War One veteran of the Hampshire Regiment. He had wanted this to be done at a particular location on the Somme battlefields where he had lost his mates in 1916, and as the ashes fell a bugler played the unique lament which had been written specially for his battalion at the end of the war. It was such a special occasion, and something I will never forget.
Q. As a specialist you must have visited many battlefields and war sites, but are there any locations you're yet to visit on your list?
A. Military history is such a vast subject that I am pleased to say there are many battlefields which I have not yet had a chance to visit. High on the list for me is Stalingrad, and indeed we have a new tour in the pipeline for 2019 taking groups to this iconic World war Two battlefield, and I am looking forward to travelling on that one myself! We all still learn – and that is one of the exciting parts of the job.
About Leger Holidays
Leger Holidays' escorted tours collection ranges from coach tours and holidays by air to river cruises, battlefield tours, festive holidays and worldwide tours. Tailor-made group holidays can arranged, and if there are 20 or more people looking for a coach tour, Leger can offer you up to four free places.
Don't miss our RAF Centenary feature in Group Leisure & Travel April, packed with group travel ideas linked to the Royal Air Force and war and military history.