Tours on foot and over the water, an authentic 14th century escape room, and a National Centre for Writing are just some of the new attractions coming to Norfolk in 2018.
New exhibitions and a city sculpture trail are also some of the new things for groups to do in and around the region.
Outdoor experiences
The Broads National Park is the country's only national park to incorporate a city, and this summer for the first time Norfolk Outdoor Adventures is offering groups kayaking on the river Wensum. Stand-up paddle boarding and kayaking at dawn and sunset are also new experiences to enjoy in areas of the Broads few know about.
The Great Market is the theme of a new guided walking tour around Norwich Market incorporating tastings from some of the artisan food stands. People on Norwich Market have been buying and selling for 940 years; learn all about its history which includes how it was a place of execution and entertainment.
And for more walking, there are now 50 giant Norfolk hares through Norwich city centre bringing added colour and fun to the streets. This is a free outdoor sculpture for all ages to enjoy from GoGoHares.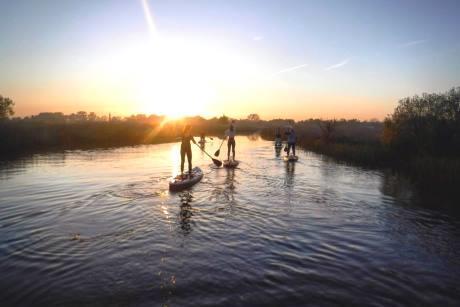 Fun and games inside
The Merchant's Vault is a new escape game in Norwich's largest undercroft. The game has been created with the input of museum curators to ensure it is historically accurate. Up to eight people will use inventive storylines drawing on the collections from The Museum of Norwich at the Bridewell and inspired by Norwich's four key industries to escape the room.
Until 14th October at the Sainsbury Centre for Visual Arts, Brian Clarke: The Art of Light presents the debut of stained glass screens made without lead, considered to represent the most significant artistic and technical breakthrough in the history of this thousand year old medium. The centrepiece of the exhibition is 30 stained glass panels or screens which the artist has produced over the last three years.
And for group with an interest in literature and writing, head to the new National Centre for Writing in Norwich which has opened following a £2m extension and restoration of the historic 15th century Dragon Hall. The new centre, backed by patrons including Margaret Atwood, Sarah Perry, Ali Smith and Rose Tremain will be a physical and digital space for the enjoyment of words, ideas and books. The campus includes a new education room for workshops and several spaces available for hire.
Find out more about Norfolk and what groups can do there by heading to www.visitnorfolk.co.uk