Keeley Rodgers speaks to Marian Durbidge from the Herts Theatre Club and Go Together Travel Club and the GTO of the Year 2017.
So Marian, how does it feel to have won the Group Travel Organiser of the Year award 2017?
It's amazing. I thought it would be really nice for my group and they are thrilled that I won the award at the Group Leisure & Travel Awards. They feel special that I've been able to put them on the map. Really, that's what it's all about. It brings to light what you do.
And what sort of impact will it have on your group?
I hope it will be good for lots of other people to join and have the experience that the old members have had which is really what it was all about. I didn't want to be in the limelight but by doing so I'm encouraging other people to come in on it.
I know you're very modest Marian, why do you think you won?
I got some feedback from one of the judges to say that he liked the fact that I said I didn't like waiting lists. He thought that was fantastic, that I would put on another coach so that everyone could experience it. I just carry on ordering coaches until we can take as many people as we can. That's what it's all about. It's the one person you leave behind who's the one person in need.
How important is your attitude as a GTO?
It's so important and being a GTO has given me a boost. When I started with the New Meridian Association I said to Sylvia Saxon that really my main thing now is to get youngsters in to replace us. We can't do it forever. There could be a career here for youngsters and this is really what I want to work on. That's my next thing, to get youngsters to do what I do. It's so rewarding and could be a huge opportunity for people.
What would you say to somebody considering becoming a GTO?
The world's your oyster. You've got to be very organised and have a lot of luck. I was very lucky to have an initial amount of people because it's very hard to start a group and search for people. I'm sure there are a lot of people who want to be organised and taken away.
Tell us about some of the trips you have coming up?
We've only just put out our programme. We're doing 42nd Street again in London, which has been very popular. We've got the Welsh National Opera coming up and two concerts at the festival hall. We've got a Croatian Cruise during which we've got the boat to ourselves. With the Go Together Club, we run more day trips.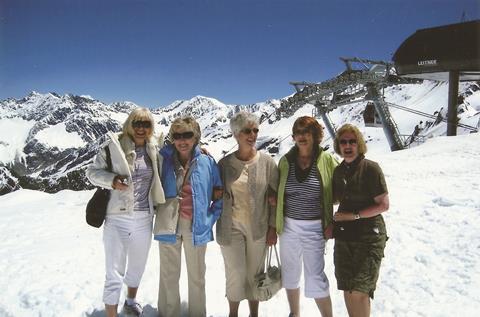 What are the most popular destinations for your group and why?
I usually go to a Warners each year, these are popular as they are situated all around the country so that we can offer day trips and use them as a base with entertainment as a bonus. We like Yorkshire and Northumbria, Cumbria, and Devon for the winter break. I like to take my other group to Europe, France, Switzerland, Austria, Sardinia, Italy the Channel Islands are also popular.
What do you love about being a GTO?
I love being away and the freedom and being able to talk to all these people and share their experiences. It must be the best job in the world really to go out and take people away and enjoy what they're enjoying. I have been in Torquay with a group this week and we went to see a show in Babbacombe. We've been before but this time it was really brilliant; the group all came out laughing and really enjoying themselves and I think, you know, I hope somebody's going to do this for us when we're older. You make it special. That's what's nice.
Marian's top tip
For me it is important not to be exclusive. The clubs are for all to enjoy.
Marian Durbidge at a glance…
Group name: Herts Theatre Club and Go Together Travel Club
Time organising: 24 years