To celebrate 20 years since the first GTO of the Year Award, we've been tracking down previous winners to find out about the impact of the prestigious title. In the first interview, we caught up with Lin Wilson, who was GTO of the Year 2013.
Lin, it's been five years since you won the Group Travel Organiser of the Year award 2013. Are you still as prolific an organiser today as you were then?
Yes, definitely. I'm probably organising more, actually. There are so many places to go now, and lots of ideas come up, I just have to find room in my diary for them. The number of tours I run has certainly increased – I ran six last year, ranging between five and 17 days long. I go on all of them. I also run lots of day trips and theatre trips, all of which are still as popular now as they've ever been.
Can you remind GLT readers about your group and who you run trips for?
My group is a business and I run trips mainly for the over 55s, although that's not to say younger people aren't welcome. I have people from all walks of life come on my trips, the majority of which are run during the week when group discounts are more easily available. I've been organising for 27 years.
Would you say your role has changed since winning the award?
Yes, I think it has. I know a lot more now than I did before. Winning has had such a positive effect on my role and the business it generates. My regulars at the time were really proud and passed the word around. I still put my logo on everything, and can call my business an award-winning travel company. It's had a great impact on interest levels, and gives me a very professional look, too.
I still get excited about every trip I do, so that hasn't changed. If it does change, I'll know I shouldn't be doing it anymore.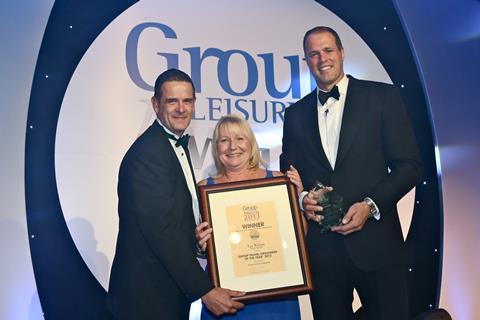 What changes have you seen in the travel industry?
My original regulars are now a lot older, I've lost some people to age. The NHS hasn't helped me, either. I know that's a strange thing to say - but I've noticed that people who might have operations the following year won't consider booking any trips in case they are unable to rearrange the operation date; cancelling means they'll be moved down to the bottom of a list. People are very worried about it, and often won't even consider a day trip.
What trips have you been on in the last few years?
I took a group to the Galapagos Islands for 12 days last March; went to Umbria in Italy for eight days in April; and took a private charter to Croatia for eight days with Travelsphere. That was beautiful!
This trip actually came off the back of winning the GTO of the Year award – I took my husband on the trip to Croatia originally with my prize money. The following year I ran a trip with my group and hired half a ship, and then two years later I took another group, booking out the whole ship. So my prize had a direct effect on the trips I've run since then.
Plus I was the first GTO to do it. Glen Thomas from Travelsphere has reported so many other GTOs running similar trips now where they hire whole charters.
Do you find familiarisation trips very helpful?
Yes, I am a great believer in fam trips. I took a personal trip with the Switzerland Travel Centre on the Swiss Mountain Railway with my husband (organised at the Group Leisure & Travel Show). The following year I returned with a group and it was just fantastic. You can't do a trip like this off pat, though – you need to know a bit about things like the trains and stations and stops first – which is why fam trips are so beneficial.
Have you seen a change in what trips are popular?
Long-haul holidays are a bit more difficult to sell now because of the state of the world, terror threats and the economy. Italy remains very popular, but in general I think people are trying to stay in the UK a bit more. Egypt was always my favourite place to visit but that's not on the cards for now, which is a real shame.
In your opinion, what makes an award-winning GTO?
Know your financial stuff – having all your legal sides covered is incredibly important. Some organisers don't know anything about the Package Travel Regulations, which are such an integral part of organising for groups. Always go with a tour operator and never book elements separately. If something goes wrong you'll be out of pocket. And know your group.
Lin Wilson at a glance…
Name: Lin Wilson
Group name: Solent Events & Leisure / Solent Events on Tour
Number of members: Approximately 1,500
Located: Gosport, Hampshire
Lin Wilson at a glance…
Name: Lin Wilson
Group name: Solent Events & Leisure / Solent Events on Tour
Number of members: Approximately 1,500
Located: Gosport, Hampshire