With the Mary Poppins stage musical returning to London's West End in October, we talk to Zizi Strallen about what it will be like stepping into familar shoes, and whether she can actually spell supercalifragilisticdocious.
This is your second casting as Mary Poppins, having originally starred on the UK tour back in 2015, how did it come about?
Originally I was cast in person by producer Cameron Mackintosh; I had to go to his house and sing through some of the songs with him. Then I went for a walk around his beautiful grounds and he told me he'd love me to have the role. For days after, I thought "did I hear him wrong". After finishing the tour I had hoped it would come to London. There was no guarantee that I would do it again but I feel really privileged to have been asked.
How will it be different performing the role this time around, a few years later?
I'm a little bit older now which I think makes a difference. We've got the original director Sir Richard Eyre coming back and the original choreographers who will, I'm sure, be making little tweaks so I think it will be very exciting. We'll be starting rehearsals in August.
Charlie Stemp has been cast to play Bert – have you worked with him before?
No I haven't but we have so many mutual friends that I've met him a lot. He's such a lovely person; I'm really excited to work with him.
How do you cope with the responsibility of taking on such a big role?
There's always pressure in any role but you just have to think "I am me" and I have to remind myself that I'm not Julie Andrews. Naturally I bring a little bit of Julie into the performance because that's who I know but then obviously I bring myself into it.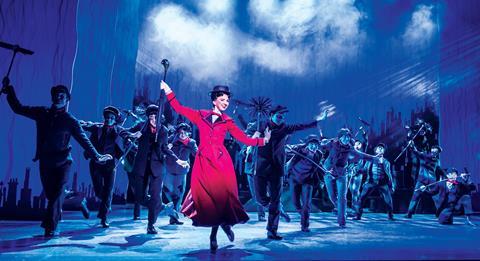 Do you share any traits with the character of Mary Poppins?
I always try to be as friendly as I can to everyone in any room that I walk into. Mary Poppins does that too; she smiles at everyone and makes everyone feel comfortable. I've had a lot of experience working with kids and I've learnt that if you speak to them like adults they respond better.
Why do you think the story of Mary Poppins has had so much longevity?
It has this lovely moral that it's not always the parents helping the children but sometimes the other way around. That is the case in any period of time. The magical side of it is crazy too; everyone leaves after seeing it thinking "did I just see that". For example, the carpet bag – we put a bag on a table and I pull out a lamp, teapot and teacups, all sorts of things. It's moments like that you hear audible gasps from the audience. The whole show is about escapism from anything that's happening in your life.
What can audiences expect from this show?
A lot of life lessons, in the best way possible, lessons about how to help and love each other. They can also expect a lot of beautiful magic, choreography and songs to sing along to. Feed the Birds is a beautiful moment and that's possibly my favourite tune. People will hopefully come away from it feeling happy and elated. I hope everyone loves it.
This is your dream role, how could you possibly top it?
I used to think there wasn't any other 'bucket list' roles but recently I've been thinking about Charity from Sweet Charity – my middle name is Charity named after that character so I'd love to play that part at some point.
On some rare time off, what do you like doing?
Going for brunch with my friends, I'm a huge brunch fan.
Finally, can you spell supercalifragilisticdocious?
Yes I can (spells it out). I can say it backwards too!