Mary Gotts, organiser for Gott 2 Travel, took her group members on an exclusive, six-night 'Hidden Gems of Holland' river cruise to see Dutch highlights and celebrate the Queen's 70th year on the throne.
Mary had 40 passengers on the exclusive sailing aboard the MPS Calypso, travelling to some of The Netherlands' lesser-known sites such as Schoonhoven, Enkhuizen and Huizen.
Due to the timing of the cruise, the group realised they'd be missing out on the Platinum Jubilee festivities at home, so decided to take their celebrations on holiday, transforming the ship into a truly British street party.
Mary said: "We knew we would be missing out, so I told everyone to dress up in their red, white and blue combinations, bring flags, balloons, bunting, music and everyone joined in − we even decorated our coach to the amusement of our lovely driver Stuart.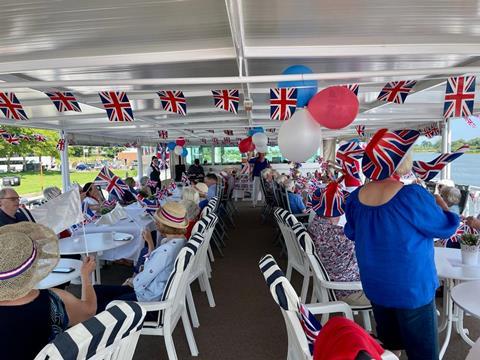 "Onboard the MPS Calypso, our crew adorned the ship with flags, bunting, balloons, and even decked themselves out wearing Union Flag bow ties. The tables and chairs were laid out on deck in the glorious sunshine, with balloons and flags everywhere and even Union Flag napkins.
"With the kind help of Captain Wido and his magnificent crew, the chef produced the most amazing delicacies, including an iced cocktail of red, white and blue. The sounds of Rule Britannia, God Save the Queen, Jerusalem and Sweet Caroline played across the ship which made for the most amazing and memorable day ever."
The itinerary was created especially for her group by Arena Travel and Captain Wido, following on from a previous sailing that Mary and her members took.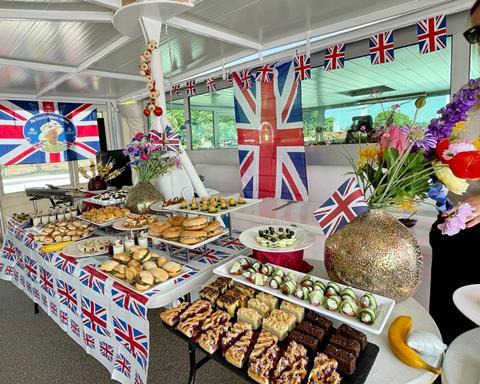 Highlights of the trip included exploring the small village of Spakenburg with its farms, rural land and fishing harbours, a visit to the National Silver Museum in Schoonhoven, which holds the world's largest collection of Dutch silver, plus a visit to the old town of Wijk bij Duurstedehas, which has many cultural and historical attractions.
Mary added: "The advantage of having a full ship charter enables me to have all my group together in one place, less chance of losing any of them and for us all to enjoy our own excursions and entertainment onboard together. This benefits both us and the crew making for a more personal experience.
"I have already booked up for another full ship charter for 2023 on the MPS Calypso where she will be part of the flotilla on the annual Rhine in Flames Festival cruise. This is a really spectacular event when the Rhine is lit up by the most amazing firework displays, which is something definitely not to be missed. There is already a lot of excitement building for our next trip."