In 2019, Carol was awarded a British Empire Medal (BEM) for services to the community. She tells us how she has been staying in touch with her group, Newton Abbot Travel Club, throughout the pandemic and her upcoming travel plans.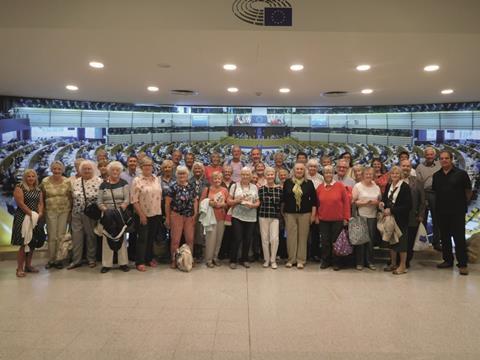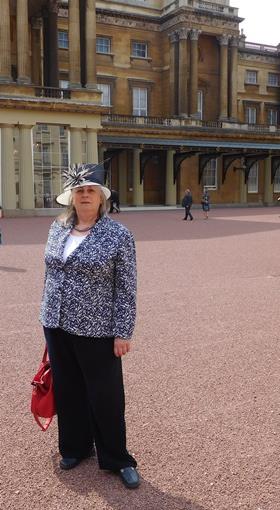 I have been a group organiser for about 18 years since taking early retirement. What started off as a few day trips for friends ended up with me organising about 50-70 trips a year before Covid. My husband has since been seconded into helping and he now takes some of the trips if I can't do them.
We have never advertised and the club is still just for friends and friends of friends who enjoy the same things as us which is mainly gardens, places of interest and theatres. We get our ideas from visiting travel trade shows, trips, group travel magazines and ideas that members have seen on television.
All the trips I have offered them lately filled within a day as most of the group are so keen to go out again and catch up with others. It is like a family outing when we go anywhere and often people have commented 'I wish we lived near you and could be part of your group'. Although almost all the members are retired we are still young at heart.
Throughout the pandemic I kept in touch with the group with a monthly 'rambling' of news or what my husband and I have been doing in the garden which people seemed to enjoy ready. I also sent jokes or quizzes to people, as many of the group are on their own or elderly. I certainly didn't think almost 18 months later I would still be doing it and how much it has been appreciated.
I thought we wouldn't be able to raise much in the way of funds for local charities this year and then hit upon the idea of asking the group if they had any books I could sell to raise money to donate to local charities. It was a success – our conservatory, dining room and lounge filled up with donations and raised over £1,500. It also brought the group together.
The British Empire Medal (BEM)
In 2019 I was invited to the Palace Garden Party for work within the community. I was shocked to be asked – I certainly didn't expect any recognition. Organising trips and our fund-raising are things I enjoy doing and the reward of the group being out and having a good time is a reward in itself.
In October, besides day trips, we are planning an overnight trip to the Mill at Sonning for a meal and show and going to the next day. We are hoping to get back to arranging a lot more day trips and breaks in 2022. I don't think we will do any European breaks just yet.
As a group organiser, the main thing is not to panic but to be the swan serene on top and call it an adventure. That's what people remember, not the times when everything goes to plan.
Carol's check-list for a successful trip
The group's defibrillator that she purchased three years ago.
A RADAR key to unlock disabled toilets.
Her mobile phone with list of members' home and mobile numbers in case they are not at the pick-up point.
A list of members' emergency contacts and medication.