I went along to the official press launch of Kensington Palace's Life Through a Royal Lens exhibition to uncover some of the most fascinating, personal and never-before-seen photographs ever taken of the Royal Family.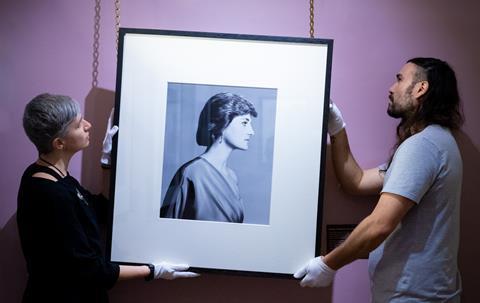 It may have been a wet and windy walk through Kensington Gardens to the palace where Queen Victoria was born but I was determined not to let the weather spoil the experience. As one of the first to step foot inside this glorious exhibition, only my coat was dampened and not my mood.
Spanning the reign of Queen Victoria right through to the present day, Life Through a Royal Lens showcases the British Royal Family's enduring relationship with the camera, from state ceremonies and royal tours to more personal, relaxed shots capturing family life.
The display also explores their close partnership with world-renowned photographers across the decades, from the relaxed domestic shots of George VI and his young family by Lisa Sheridan for Studio Lisa, to examining the impact of photographer Cecil Beaton on modern royal portraiture.
One of the great shapers of royal image in the twentieth century, Beaton's stunning images of Her Majesty The Queen and Queen Elizabeth The Queen Mother reveal how his work shaped public perceptions and helped create a fairytale-like image of the young Queen Elizabeth II as both sovereign and modern mother.
Curator Highlights
Historian and curator at Historic Royal Palaces, Claudia Acott Williams, spoke about some of her favourite pieces to look out for when visiting.

She said: "I think the first royal wedding photographs of Princess Vicky taken in 1858, which show Queen Victoria (her mother) shaking in the negative, as she says in her diary how nervous she was, is a really special image because that has now become such a recognisable moment in royal history.
"The incredible portrait of Prince Charles showing a king-in-waiting is a very powerful piece, we have some lovely pictures taken by George IV of Princess Elizabeth as a child and, of course, the stunning image of Diana, Princess of Wales."
A selection of images taken by Royal Family members themselves is also on display for the first time. The photographs demonstrate how, in addition to being some of the most photographed people in the world, Royal Family members have often been found behind the camera.
Included among these is the work of former resident of Kensington Palace Antony Armstrong-Jones, later Lord Snowdon, who as one of Britain's best-known photographers executed some of the 20th century's most revealing and 'modern' images of monarchy.
Elegance and class
Visitors should make time to stop and take in the two never-before-seen images on show – a striking black and white portrait of Diana, Princess of Wales, along with a wholesome shot of The Queen and Prince Philip laughing together at their platinum wedding anniversary in 2017.
Both can be found side by side and completely light up the space. I couldn't help but smile at Her Majesty's infectious grin next to her beloved husband in a shot that was held back at the time as it was considered too personal for public release. The simple backdrop shows a more intimate side to their relationship which celebrates the enduring union between Queen and consort.
The stunning black and white portrait of Princess Diana enhances the room further, captured by David Bailey. The photograph shows the Princess looking away from the camera, stoic and reserved in presence and comes from a 1988 sitting commissioned by the National Portrait Gallery.
While several photographs from this shoot were acquired for the gallery's collection, this portrait was retained by Bailey for his archive and has never been seen in public before. Several established royal photographers had been suggested to the Princess for the commission, but her choice of David Bailey's bold minimalism was said to reflect her desire to establish a new photographic identity for herself.
Life Through a Royal Lens is running at Kensington Palace in London until 30th October. Entry to the exhibition is included within the admission price in which groups of 15-50 gain discounted rates. More information is available at www.hrp.org.uk/kensington-palace.

With a love of journalism and travel, Harry enjoys writing about his experiences for GLT readers to use as inspiration. Brighton, Dublin and Amsterdam are among his favourite cities to visit and he enjoys delving into historical sites too – especially those linked to the Tudors and World War Two.