Geoff Allen, Travallen Travel & Events, shares the highlights of their recent group trip to the Isle of Wight which involved sunshine, history and a steam train experience.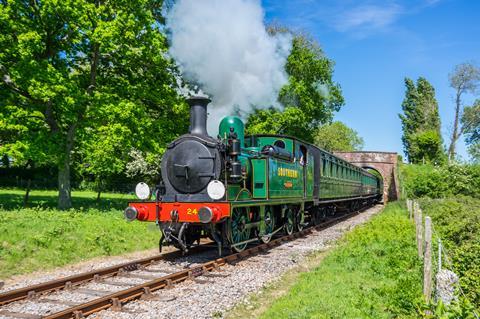 On a cloudy morning with an uncertain and worrying weather forecast, we set off from Yateley, Hampshire at 8.30am heading to the Red Funnel and Isle of Wight ferry terminal at Southampton to board the 11am service to East Cowes.
Once on the island and with time on hand before our train journey, our driver Mike Pearson of Hodges Coaches (Sandhurst) took us on a semi circular route toward Ryde then headed inland via Arreton Downs and over the highest point on the island to our destination at Havenstreet Railway Station.
By now, the weather had changed to be very much in our favour with a gentle breeze and lovely sunshine which remained with us for the rest of the day as we enjoyed spectacular views across the island with its rolling downs and hills. On arrival at Havenstreet Station, guests indulged in refreshments before a selection of attractions.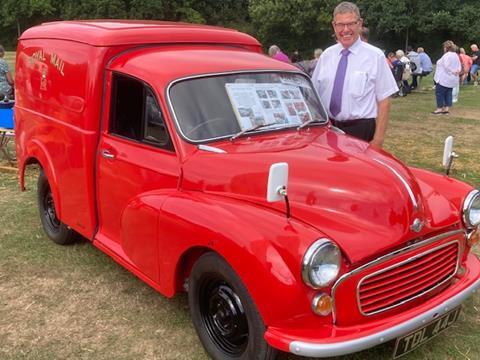 The day's bonus attraction on site was a Morris Minor Classic car show. The show proved most interesting for our guest and I was able to personally appreciate a Royal Mail van which I had driven during my 28-year Post Office career whilst at the same time developing and running Travallen Travel & Events.
Other attractions included a falconry display in an adjacent and nearby field. Also tucked away in a corner of Havenstreet station, is a friendly team who are dedicated and skilled falconers and who have a passion for birds of prey with over 45 years' experience of handling and flying birds. Their ethos is education through fun!
History quite literally comes to life at the Isle of Wight Steam Railway…
The station also features the Museum. In the autumn of 2018, the entire 10-mile round trip of the Isle of Wight Steam Railway was granted accredited museum status by Arts Council England, meaning the entire Railway is a working museum.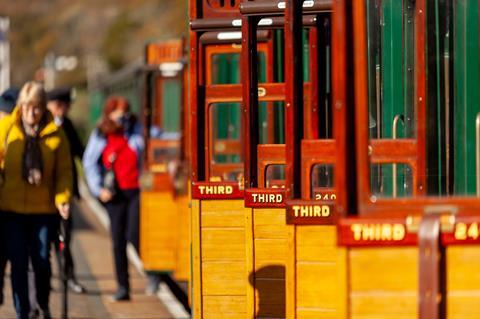 Within the railway shop itself there is a small artefacts gallery for visitors to enjoy. You can see up-close a whole host of items from the Railway's history including nameplates and maker's plates from some of the earliest locomotives to run on the Island and follow the pictorial timeline along the wall for an overview of Island railway history.
An exciting Train Story exhibition is also on site where our group experienced the sights, sounds and atmosphere of over 150 years of railway history.
There are also displays of the Victorian and Edwardian carriages alongside a collection of rare rolling stock. We learnt that this amazing interactive museum was made possible by a £1.2m grant funded by the Heritage Lottery Fund and first opened its doors in April 2014.
The highlight of the day was yet to be enjoyed. On the station platforms, guests enjoyed the friendliness of traditionally uniformed staff as we stepped back in time of a bygone era when steam power was the order of the day.
It was a thrill to see the sight and sound of powerful majestic steam engines and breathe in the evocative smells of a real steam railway.
Guests boarded our reserved and beautifully restored Victorian and Edwardian carriages with their gleaming brass handles and vintage droplight windows.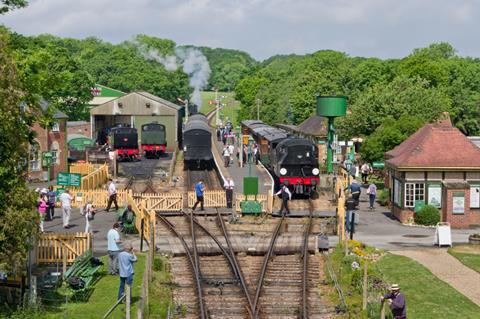 During the round trip from Havenstreet Station to Sambrook Junction then via Havenstreet Station to Wootton and returning to Havenstreet, we enjoyed idyllic view of the Island's unspoilt countryside whilst keeping an eye out for a red squirrel or deer darting away from the train as we passed.
We certainly did experience the golden age of travel.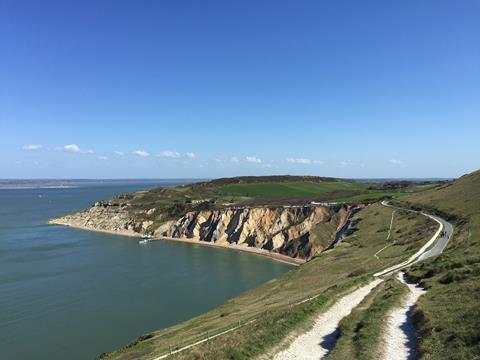 The return journey via Red Funnel ferry to Southampton whilst viewing a handful of cruise ships leaving port, was uneventful.
On then through the Hampshire countryside to home was with fond memories of a nostalgic day out and a favourable comment from one guest summing it all up who said 'thank you - I really did enjoy myself and thank you for all your efforts'.
It really does make it all worthwhile!
Tell us about your trip
If you've been somewhere recently that your group particularly enjoyed, we'd love to hear about it. Get in touch by emailing editorial@groupleisureandtravel.com

Geoff Allen has been organising group trips for more than 50 years, taking his members in Travallen Travel & Events on a range of day trips and short breaks. The group has around 3,500 members, with his mystery tours always proving popular.