Laura Sexton speaks to Denise Piddington about her ambitions as an organiser and choosing trips that all her members enjoy.
Denise, tell me how you became a group organiser
One of my ambitions, once I retired from teaching, was to travel as much as I could, but as a widow I had no one to travel with. I joined Bushey U3A and discovered that, although they had someone organising 'days out', they had nobody organising group holidays. So, I decided that, with the help of a friend who was a tour operator, I would start organising so I'd have somebody to join me on my holidays. In fact, it gives me lots of people to go on holidays with.
What can you tell me about your group?
As we are a U3A, all my members are over 60 and mostly late 70s, 80s. We have a lot of single people, especially women who, like me, prefer having someone to go away with.
How many trips do you organise each year?
I organise two or three trips a year, in spring, summer and autumn. As we are all on a restricted income, I do one which I consider expensive (usually abroad) and one or two in the UK which are cheaper.
You recently took a trip to Guernsey; what did you do there?
We had a guided tour of the island when we arrived and a guided tour of Sark on day three where we also had a horse and cart tour which everybody loved. There was an excellent bus service from outside the Peninsula Hotel, where we were staying, so it was easy for people to get around. I asked Guernsey Tourism to send me booklets of 'things to do' there which I handed out so people could plan their free time and decide what they wanted to do.
You've previously taken a group on a cruise with Fred. Olsen Cruise Lines. Do you have any others lined up?
Well, I have now offered my group a CMV cruise to Iceland for 2020 and 60 people booked within two weeks. It was a great deal, the cruise cost less than half price and that, along with the itinerary, really caught members' attention.
"I believe that if I enjoy something, then so will my members."
What other trips do you have planned for the future?
This year we are going to tour around Gloucestershire, Somerset and Wiltshire visiting Westonbirt Arboretum, Wells, Longleat, Bristol Aerospace and Laycock. I've called it the 'Three Counties Tour'.
Then, in September, we are going to see Kynren, staying in Durham. This is just a three-day tour stopping at Harewood House on the way up and York on the way back.
Are there any tour operators or attractions you'd recommend to other GTOs?
I am using Success Tours for all my tours now. As for attractions, if people like to see a show, I don't think you can beat Thursford Christmas Spectacular or Kynren. The flower show in Zundert was also well loved. Otherwise my group really enjoyed making frogs at Denby Pottery, the National Stud and the Dunbrody Famine Ship in Ireland.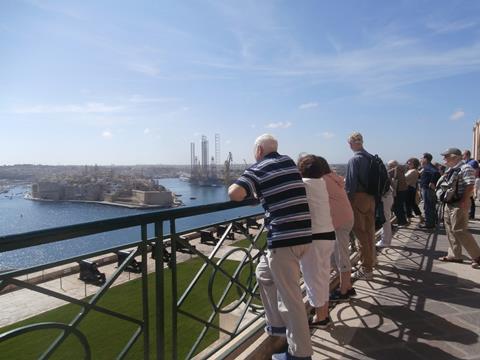 As a group organiser, what is the biggest challenge you face?
Creating a tour that will be popular with all our members. I always try to include a variety of attractions which they will see as interesting and places that they would probably not think of going to otherwise. I never include a place I haven't enjoyed myself as I believe that if I enjoy something, then so will my members.
What is the most rewarding part of being a GTO?
Finding that lots of members want to book a tour and then seeing the delight on their faces as each attraction is visited.
If you could go anywhere in the world with your group, where would it be?
I think I might try Canada. I've never been myself, but I have heard it's a delightful country to visit and could be one which has not been visited by many of my members.
Finally, if you could sum up your role as an organiser in three words, what would they be?
Plan. Inform. Enjoy.
Never a dull moment…
In 2014 we went to Cornwall and one of our visits was to Healey's Cider Farm where we had a cider tasting experience. I expected us to be given a small glass to taste a small amount of just four or five ciders.
It turned out to be ten different ciders! I worried that we were all getting a bit drunk. We were certainly enjoying the experience although some of us were a bit wobbly on our feet when we had to leave.
Denise Piddington's group at a glance…
Group name: Bushey U3A
No. of members: 600
Time organising: Eight years
Favourite destinations: Isles of Scilly, Ireland, Malta, Guernsey.