A study carried out by Art Fund has found that 63% of UK adults visit a museum or gallery to destress, but with so many to pick from in the UK we've rounded up some of the more unusual ones.
From stained glass, to a noisy display of cuckoo clocks and a journey through the human body, each of these museums are sure to make for a fun day out with a difference.
Unusual collections
Bringing death to life, the BODY WORLDS museum experience which opened in London's Piccadilly Circus last year, offers an immersive journey through the body and features displays of real human bodies. Taking part in the interactive displays could see you learning how to save lives in the CPR display, or witnessing your whole body reflected, organs and all, in the Anatomical Mirror.
Stained glass is an art-form that dates back to the 7th century in England. For a rare close look at over 125 stained glass panels and a look into the history of the ancient art, a trip to the Stained Glass Museum in Ely Cathedral is a must.
Another museum offering a similarly alternative look back through Britain's diverse history is the Cuckooland Museum in Cheshire, believed to be the largest of its kind. Housing a collection of 600 plus cuckoo clocks, which can be heard chiming and chirping during your visit, the museum will provide an insight into the country's cuckoo clock-making history.
Anyone wanting to continue with the cool and quirky theme but wishing to explore a bit further afield than Britain's history, should head to the Terracotta Warriors Museum in Dorchester. Featuring replicas of warriors on show in a series of poses, from general to kneeling crossbowman, audio commentaries tell the fascinating story of the uncovering of the Chinese Terracotta Warriors.
Or, if you'd rather step away from this world altogether and delve into one of magic and folklore, both past and present, then you could book a visit to the Museum of Witchcraft and Magic in Boscastle, Cornwall. Brave souls can even attend one of the museum's late-night candlelit evenings.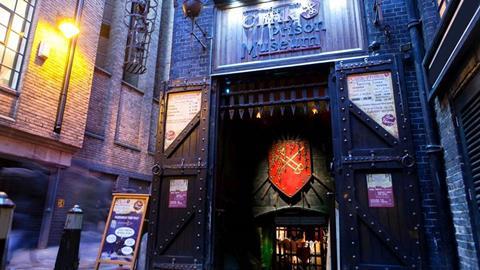 Quirky locations
For some museums, the structure that houses its collection is as unique and as interesting as what is inside of it and that's definitely the case with the next three. So, if you're ready to marvel at the building, as much as its displays, head to these ones…
The Charterhouse in London, for example, has served as a monastery, private mansion, boys' school and an almshouse. Today the museum is free to enter, and is still home to a community of residents, known as the Brothers, and a visit could see you remarking at the chapel one second, and at its collection of historic objects the next.
Brunel's SS Great Britain was dubbed 'the greatest experience since the Creation' when it was launched in 1843. Today, the ship stands on a glass sea in Bristol as a museum in its own right and can be toured in its entirety, just as it would have appeared when it took its first journey out to sea.
Not one for the faint hearted, Southwark's Clink Prison Museum is based on the site of the old prison, said to be one of England's oldest and most notorious. Renowned for its ghostly sightings, visitors can handle torture devices and hear about tales of torment during a guided tour of the spooky building.
Lead image: A photo of the Hare Woman sculpture at the Museum of Witchcraft and Magic in Boscastle in Cornwall.