Popular ocean cruise line Fred. Olsen recently made a splash by branching out into the world of river cruising, writes Jeannine Williamson.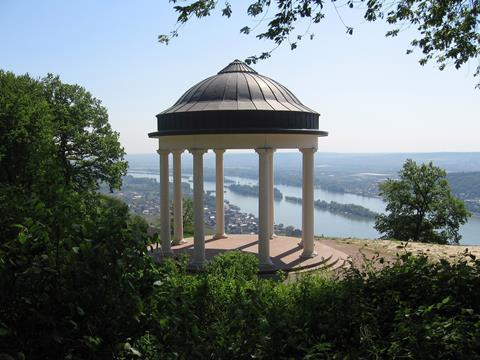 I'm following in the footsteps - or to be totally accurate the three-wheeled tyre tracks - of Bertha Benz as I clamber onto the seat of the world's first automobile in the centre of Mannheim.
Not only is it incredible that the car is openly on show and people can sit in it, but the story behind it is equally astonishing as our guide tells us that Karl Benz's 1885 invention, widely dubbed the "devil's engine", did not exactly hit the road running. He had trouble convincing people it was the future of transport, especially when the local authorities limited the speed of his two thirds of a horsepower vehicle to 3mph as he tested it in Mannheim and was overtaken by milkmen in their horse-drawn carts.

Pictured: The world's first automobile
In 1888 his 39-year-old wife Bertha, with their 13 and 15-year-old sons, took matters into her own hands and embarked on a pioneering 112-mile drive from Mannheim to Pforzheim and back, clocking up the world's first long distance car journey and proving the invention was worthwhile. En route she had to use her hair pins to unblock the gasoline pipe along with ribbons and garters to carry out running repairs. When it ran out of petrol she bought a chemist's entire stock of alcohol-based stain remover to use as fuel. The rest is, of course history, and duly proven as we walk back to our floating home-from-home through streets lined with modern-day Mercedes Benz models.

Pictured: Cruising on Fred. Olsen's first river vessel, Brabant
Our journey had started three days earlier in Basel where we boarded Fred. Olsen Cruise Line's first ever river vessel Brabant, which is sailing on a variety of five to 25-night itineraries on the Rhine, Danube, Moselle and Main rivers in 2018 and 2019. With all the 'hallmarks' of a Fred. Olsen ocean cruise - friendly atmosphere, English cruise service manager, British favourites on the menu alongside regional dishes - it will certainly interest GTOs that have taken their members on a seagoing sailing with the line voted Best Cruise Line for Groups at the Group Leisure & Travel Awards 2017 for a record seventh time.
Our seven-night Romantic Rhine & Moselle Marvels itinerary took us on a leisurely voyage to Dusseldorf with daily stops in diverse destinations from the pretty winemaking town of Rudesheim, where optional excursions included a fun and informative wine tasting, to the culture-rich cities of Strasbourg and Cologne.

Pictured: Dining on board the Brabant
Back on board we enjoyed entertainment from the resident musical duo and a visiting German band complete with a barrel organ. Days were punctuated by tasty meals, including a Bavarian-themed lunch and daily five-course dinner. We still managed to find room for the afternoon tea with tempting cucumber sandwiches plus scones, cream and jam.
Fred. Olsen's new river cruise certainly provided a real taste of what the region has to offer -with plenty of Brit-friendly touches too.

Group benefits

Group benefits on the 156-passenger Brabant include competitive rates on fares and drinks packages, free places for GTOs and a complimentary cocktail party on achieving group passenger targets, flights from London, Manchester or Scotland along with the flexibility to book cruise-only fares for GTOs that want to make their own arrangements and travel by Eurostar or coach. Groups can also dine together at allocated tables and private shore excursions can be arranged on request.
Main image: View of Fred. Olsen's Brabant.