Should you be interested in ordering our travel directories and annuals, you can find product details and information below.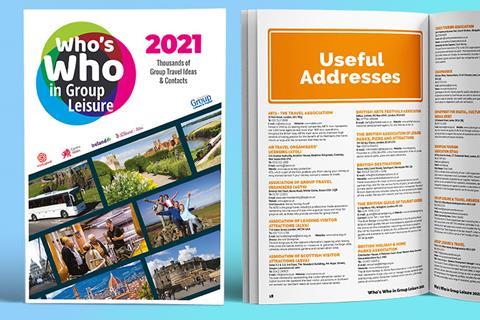 So, what can you order here?
Who's Who in Group Leisure 2021
£40 (+ p&p £3.50 UK, £7 Europe, £9 Worldwide)
Britain's leading directory for group travel organisers, with the best attractions and suppliers listed in this newest edition for 2021. It includes contact information for GTOs and discriptions, and is broken-down by English county, with further sections for Wales, Scotland and Ireland. You can also easily find tour operators, ferry companies, cruise lines, and national groups.
(Order using the form button at the bottom of the page.)
Please do not include credit card info, bank details or any sensitive data in this form, or send it to us via e-mail. We will contact you to progress your order and arrange payment/invoicing.


Coaching Venues & Excursions Guide 2021
£40 (+ p&p £3.50 UK, £7 Europe, £9 Worldwide)
If you are a coach operator or group travel organiser looking for ideas and inspiration for a coach trip or holiday, this is the guide for you. Each region is covered with the latest news, suggested itineraries and expert opinion. (Order using the form button at the bottom of the page.)
Place your order request now by clicking the button below and completing the simple form or feel free to telephone us on 01908 613323.
Who's Who in the Bus & Coach Industry 2020/2021
£35 (+ p&p £2.50 UK, £6 Europe, £8 Worldwide)
Find the right company, the right contact or supplier service. Even after 50 years, this continues to be the go-to reference for people working in the bus and coach industry, and is also helpful for group travel organisers looking for coach operators.
Please note: WWBC has its own secure order form where you can pay online. Click the button below.