Make sure you're signed up to receive our free email newsletters, containing the best news stories and articles from the Group Leisure & Travel website, theatre updates and the hottest cruise deals.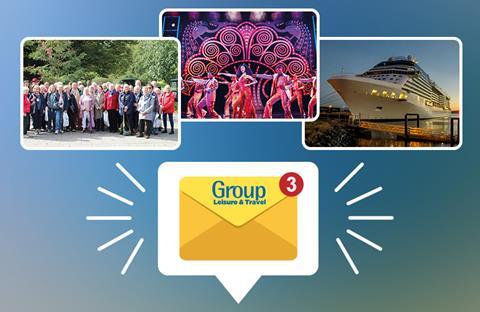 The editor's top picks mean you'll never be stuck when it comes to group trip ideas, advice and contacts.
Here are the newsletters on offer:


Group Leisure & Travel Weekly Newsletter
The best stories, news, features and ideas from the GLT website. Usually sent to your inbox every Thursday, it's a short, snappy way to read what's happening and to find your next group experience from the magazine GTOs trust.
GLT 'Theatre Bug' Newsletter
Covering all things theatre, from London's West End to regional treats right across the country, 'Theatre Bug' is usually sent out every fortnight on a Tuesday.
The aim of the newsletter is simple; to inspire you by diving a little deeper with interviews, reviews and exclusive content. The latest group ticket offers, show openings, cast changes and more will all be included in an essential round-up.
GLT 'Cruise Culture' Newsletter
Focused on ocean and river cruising news, ideas and advice to suit all tastes and budgets. 'Cruise Culture' serves up the latest group deals, ship launches, ideas, advice and more - sent to you once a month. It's from the team that brings you Group Leisure & Travel, and Cruise Magazine so you'll see both brands side by side - perfect partners.
How to subscribe
If you've already registered with this website, it's as simple as going to your Account Centre and clicking on the 'Newsletter & Email Alert Preferences' option.
If you haven't registered yet, just complete our simple Registration Form to get so much more, and for free. You'll have extended access so you can enjoy even more stories and features, plus you can subscribe to newsletters, save articles, comment on certain stories and enter competitions.