Does the idea of pollution-free cruising on electric-powered boats sound appealing? We look at how Backwaters Cruising makes its canal tours of France and Belgium extra special for groups.
Imagine gliding along a tranquil canal in France, with only birdsong breaking the silence. Your group has just visited the exquisite garden of a French artist and after enjoying some local delicacies onboard you will be transported to a famous flea-market, where some fascinating finds are destined for your suitcases.
Supper that night is in the vaulted cellar of a celebrated bistro and as your hotel (home for the duration of your cruise) is only ever a short coach ride from where Backwaters' vessel Natalia is moored, there's even time to admire the town's cathedral, take a nap or savour a pre-dinner cocktail.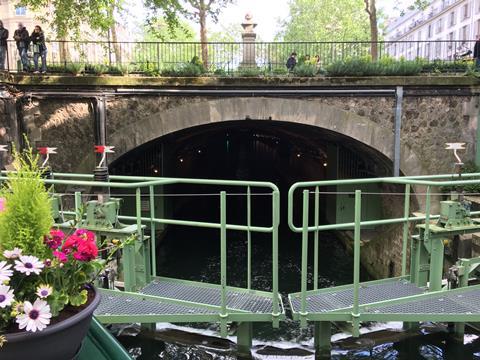 Backwaters Cruising's CEO Lynn Woods explains that groups have a great deal of flexibility, both in deciding their wider programme and how much of his help they want to set it up.
"They can choose to go 'DIY' or lean on me and our local connections to help them set up something that's going to work well," he says. "I can help with arranging a hotel or organising a visit to a château or gardens, as well as with practical advice, such as how much time to allow for things."
Groups cruise the waterways by day and retreat to a hotel for the night – and invariably it's the same hotel every night even if you're cruising for a full week. A lot of the cruise routes are delightfully indirect – one of Lynn's favourites is from Reims to Épernay, in the heart of the Champagne country: it takes 25 minutes by road, two days by canal.
There is also the benefit of taking in marvellous views from the comfort of the lounge. "I think the biggest surprise for people is how much space there is," says Lynn.
"We created an observation lounge layout which allows people to sit sideways looking out as the scenery passes right under their nose. We have a little counter-top just below the windows, giving people somewhere to rest a book or a glass of wine and a plate of lunch.
"The model we chose wasn't to cram as many people in as we could – we set our ceiling at 40 because it's what we're comfortable with and is conducive to an all-day cruise which is what we do. Comfort is the aim of the game."
"There's a look of wonder on people's faces when they're up the front on the outside deck watching the world go by."
And then there's the fact that the cruising is electric and almost silent which people find refreshing different, says Lynn: "There's a look of wonder on people's faces when they're up the front on the outside deck watching the world go by and all they can hear is some very gentle rippling on the water.
"They're not hearing engine noise or experiencing any pollution blowing back at them on the downwind and they're not feeling any vibrations."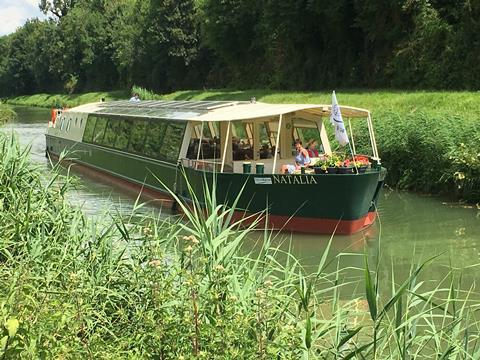 The vessel is fully accessible being single deck, with no steps, and can accommodate wheelchairs, disabled people and the very elderly. Lynn told us: "We've had people on board who have been quite happy to sit in an armchair watching the world go by in a spectacular setting, then take an arm to go back on the coach to their hotel where they can be similarly relaxed."
"People can have a relaxed breakfast at the hotel the next morning with cruising typically starting between nine and ten o'clock. That means the early birds can have their walk around the city or the local market – they can even decide not to cruise that day because we're all going to be back in the hotel that night."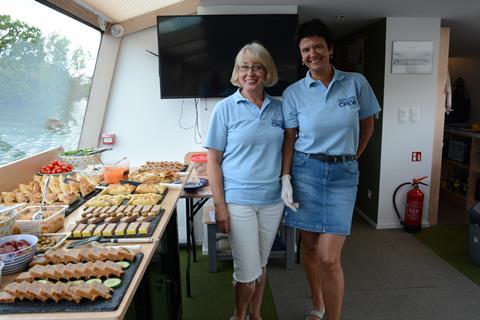 Backwaters Cruises has joined forces with Supercraft Cruises to offer a range of inspirational craft classes, from stained glass, needle felting, beginner's bookbinding and mosaics to jewellery making, lino printing, aluminium art and table lanterns. Devised and managed by Julie Peasgood, workshops appeal to both men and women and are suitable for all abilities.
The maximum capacity on board Natalia is 40 passengers, with four attractive levels of discount for groups, ranging from bookings for parties of ten to chartering the whole boat.
For more information about cruising the waterways of France and Belgium email info@backwaters.tours or visit www.backwaters.tours.